In 1984, the Festival became a program division of Lakewood Center for the Arts and we've pulled out all the stops for our birthday bash! Start in Lakewood's main entrance with a retrospective of Phyllis Yes, one of art's most creative feminist voices, in the Dee Denton Gallery. View the work of three of the top poster artists in the world: Emek, Gary Houston, and Tim Oakley, as we highlight the collaboration between music and visual art in the Featured Exhibit, POP! Art of the Album & Concert. Honor the original Festival with the small works show, The Festival of Arts & Flowers. Enjoy a throwback to the Pop Art movement in our hallway with Pop: Loud Lines & Bold Statements. And of course, our Youth Exhibits are back, expanding into both our downstairs Lakewood Café, and a special new invitational located in the Joan Eliot Sappington Youth Gallery.
Dee Denton Gallery Presents:
Pop! At the Dee Denton Gallery
June 1-25th
It's the 60th year of the Lake Oswego Festival of the Arts. The Dee Denton Gallery is celebrating by rolling back to the iconic 1960s art style. Four professional artists are participating in this invitational––Phyllis Yes, Mark Randall, and Leslie Peterson-Sapp, all acrylic and mixed media artists, and Raphael Schnepf, an oil painter. 
The Featured Exhibit illuminates how artists and musicians join forces to create poster and album cover art that is, indeed, fine art.
Sponsored by At The Garages
Art in Concert. This exhibit invites the public to view the work of three of the top concert poster artists in the world: Emek, Gary Houston and Tim Oakley. The men are Portland locals who have created original works for international musical greats including Elton John, the Rolling Stones, Soundgarden, Willie Nelson, Foo Fighters, The Tubes, Aimee Mann, Jefferson Starship, Rick Springfield, Etta James, the Grateful Dead, and more.

For the Record.  Musicians: local, regional, and international,  share their inspirations behind  album covers. To highlight just a few: Ronnie Wood from the Rolling Stones, Steve Hackett from Genesis, The Dandy Warhols, Quarterflash, Nu Shooz, Darlingside, Obo Addy and the Mel Brown Trio.
Art of the Album Cover & Concert – A Juried Show. This exhibit showcases artists' original album covers and posters based on music that has inspired them over the last sixty years. Local, regional, national, and international artists met the challenge to honor their favorite band, song or music genre and some without naming the band or song. We welcome patrons to interpret the music that inspired the art.
The Life Cycle of the Album. Patrons are invited to learn the process of making a physical album through video, images, charts, and the written word.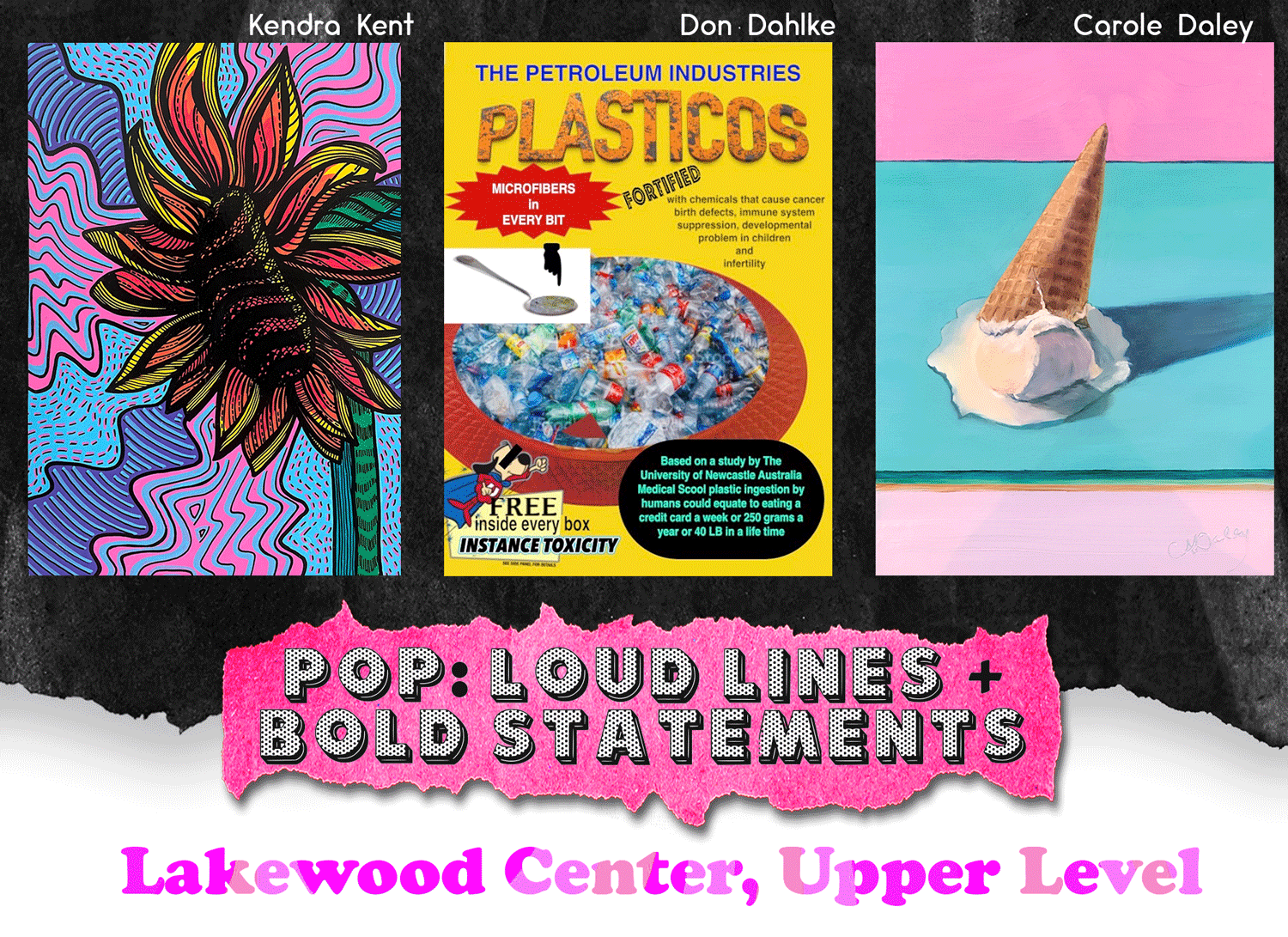 Pop: Loud Lines & Bold Statements
Pop art defies the traditions of fine art by creating representational imagery from popular and mass culture. It is sarcastic, ironic, radical, bright, and colorful. Pop art crosses mediums and cultural boundaries. It is emotional, fearless, and influential. 
And pop art is more than soup cans and Warhol! Look  for unique work that showcases the individual artist's creativity with people and images we see every day. What are our artists  in love with? What are they angry at? Who are they obsessed with? Look for the answers in the brightest, boldest way possible.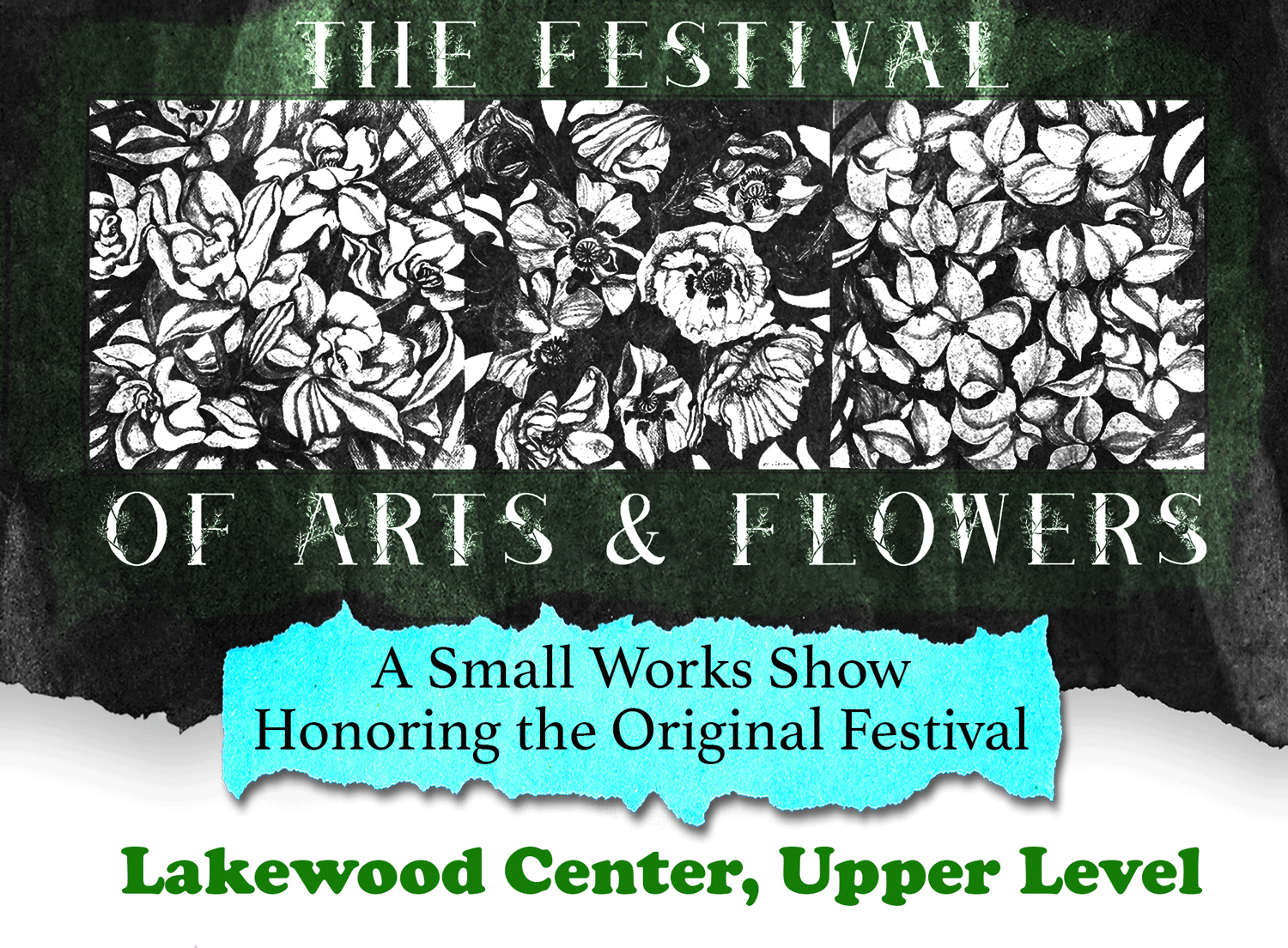 The Festival of Arts & Flowers
This exhibit embraces the variety and splendor of nature, all of which pay homage to the original Festival of Arts & Flowers 60 years ago. The exhibit takes the viewer down a garden path, through the woods, or into a greenhouse. The artists' unique skills, varied techniques, and use of different surfaces and materials reveal incredible shapes, colors, and textures—both real and imaginary. These incredible pieces are showcased in a 12x12 inch format and no work is over $300, making this a rare opportunity to collect original pieces from our area's finest artists.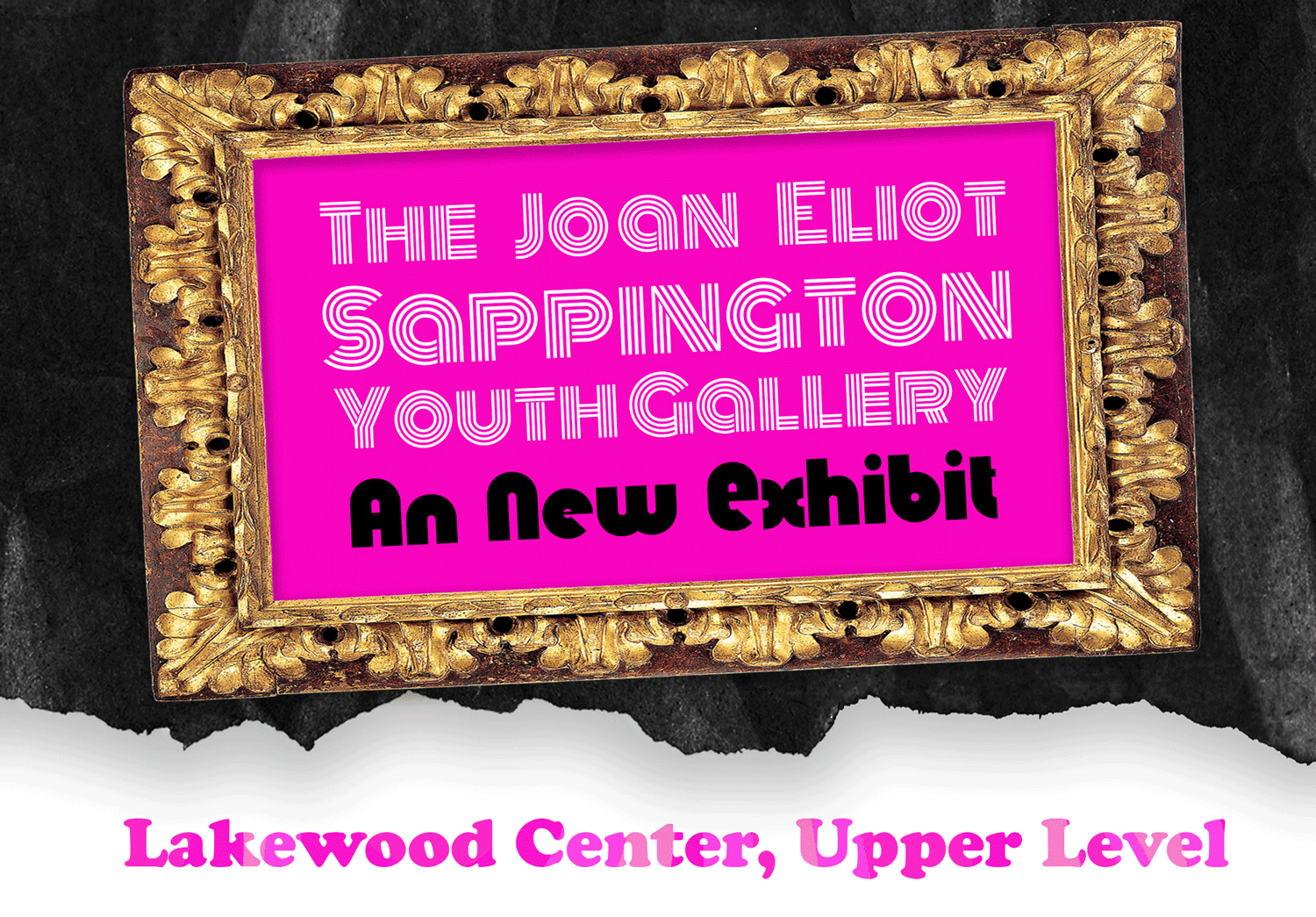 The Joan Eliot Sappington Youth Gallery
Joan would be so proud to have her name on this student invitational exhibit. She always promoted presenting the highest quality artwork and saw the Festival as a venue for that purpose.  
Art students in grades 6 to 12 throughout Clackamas County were invited to participate in this exhibit based on referrals from their teachers, their art style and their commitment to visual arts. 

The Open Show Express
Hundreds of works by dozens of artists. It's the largest non-juried show in the Northwest.
Come early for the best selection of artwork! Open Show Express allows visitors to buy and take acquisitions home during the Festival. Helpers are available to carry your selections to the sales area.

The Youth Exhibit has moved downstairs to the Lakewood Cafe!
What you'll find: An amazing exhibit of over 300 works of art created by talented artists from preschool to 12th grade. Includes works by artists in local schools as well as schools throughout Clackamas County, award winning pieces from the Clackamas ESD Regional Art Show, works by students in the Lake Oswego Art Literacy Program and art created through the Youth Outreach Program workshops.
Youth Outreach Program
The goal of the Youth Outreach Program is to create opportunities for youth in the greater Portland area to participate, both as artists and audience, in all that Lakewood has to offer. Lakewood strives to overcome geographic, socio-economic, cultural, or language barriers to provide access to arts education for underserved youth. See the art created by the talented young artists in the outreach program workshops in the Youth Exhibit.
Elementary Art
Artwork created by elementary students participating in the Lake Oswego Art Literacy program will be on display. You'll find loud, fun, pop-art style works inspired by learning about major artworld influencers like Andy Warhol, Paul Klee, Jennifer Bartlett, and indigenous cultural artists from Australia. After studying these artists, students take part in hands-on projects that allow them to interpret what they've learned and then create their own unique art in those same styles.
Middle School Art
As the Middle School students continue their art literacy education, they study drawing, painting, printmaking, sculpture, and ceramics. By honing and refining their skills, they learn to use a wider range of materials and how to execute more complex techniques. Their progress is showcased by the vibrant and thoughtful art they create.
High School Art
The High School art in the exhibit includes works in a variety of formats, from paintings and prints to mixed media pieces. As students move into high school, they further develop the ideas and skills they've previously learned. Their work displays how their methods, styles, and material choices have evolved over time, and they can more fully express their individuality in original and inspiring new ways.
A curated showcase of art in many forms, selected carefully by a jury and brought to George Rogers Park from all over the Pacific Northwest and beyond. You'll find contemporary work across several disciplines from a class of artists working at the top of their game––as well as from emerging makers honing their craft.