Lakewood Theatre Company, now in its 68th year of productions, offers a year-round program in theatre and visual arts education for adults and children at the Lakewood Center for the Arts. Our class instructors and production directors are local artists who have demonstrated proficiency in their craft. Many have been with our program for several years.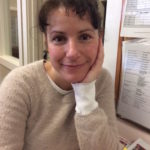 Liz Hayden - Creative Dramatics
Liz Hayden has been teaching Children's Theatre for over ten years now. She had her beginnings in Santa Monica managing an Arts Camp and teaching at the Piero Dusa Acting Conservatory. Liz teaches drama independently through schools, Profile Theatre, Northwest Children's Theatre, Shaking The Tree, and her theatre company Hand2Mouth. Liz began acting when she was six and owes much of her inspiration to the drama teachers in her young life. That's why she loves to work with youth. She graduated with a B.A. in theatre from Southern Oregon University and a MFA in theatre from Northern Illinois University.
Besides teaching she devises theatre and tours with her theatre company Hand2Mouth through out the year. Much like her theatre company, Liz's techniques are much the same. She loves to create a show from scratch or an adaptation based on all the spirit and personalities in the room with her.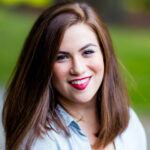 Eve Brindis - Ballet
We are very excited to announce that Eve Brindis will be joining our dance staff. Eve is a very popular dance educator and choreographer. She teaches youth and adult dance classes in ballet and various styles for Spotlight Musical Theatre Academy, Lake Oswego Parks & Recreation and local schools and dance studios. Her choreography has most recently been seen in productions of The Little Mermaid, Legally Blonde JR., Bring It On and Lakewood's Elf JR. and Shrek JR. She received her BA from Linfield College.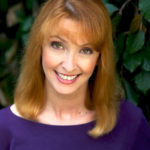 Nancy McDonald - Acting for Non Actors, Story Telling, Public Speaking, Professional Acting, Shakespeare
Nancy McDonald has lived a joyful life steeped in the arts. She is an actor, director, performing arts educator and corporate trainer. As well as having starring roles in over 40 theatre productions and the soap opera All My Children, she founded Shakespeare Stage Company in New York City and The Writer's Lab in Hollywood. Directing credits include A Scrooge Mart Christmas Carol and The End of the World and Other Funny Stuff for No Illusions Theatre in LA, Murder on the Nile, Wait Until Dark on Lakewood's Headlee Mainstage. She currently teaches her signature classes Acting For Non Actors, Professional Acting, How To Tell Your Story, and Playing with Shakespeare at Lakewood Theatre. During the school year, you can also find her teaching at various elementary and middle schools, junior highs, the arts residencies, and Loud and Clear and Read Write Act with Oregon Children's Theatre.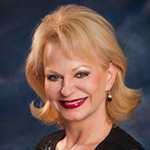 Terry Brock - Dance
Terry Brock's diverse background includes multiple choreographic works, and an international performing and teaching career.  Terry has shared the stage with legendary dancers including Ben Vereen, Shirley MacLaine, and a host of others. She has created repertory and appeared with major symphonies. Terry has collaborated with Mercer Ellington in a tribute to his father, Duke, and is the conservator of the late great Eleanor Powell's choreography. Terry is a former member of the Nationally acclaimed Jazz Tap Ensemble appearing with members Lynn Dally and Sam Weber for several years both as a long-standing company member, and then as a guest artist. She has shared tap stages with legendary hoofers over the years, including Gregory Hines, Steve Condos, The Nicholas Brothers, Bunny Briggs, Honi Coles, Cholly Atkins, LaVaughn Robinson, Brenda Bufalino, Dianne Walker, Eddie Brown, and many others. Terry appears worldwide at tap festivals and has been the Ambassador of Tap in conjunction with the U.S. Embassy in Prague, CZ.  She is artistic advisor to the Vancouver Tap Society, and her students could be seen in the opening number of the 2010 Olympics.   She is regarded as an American Tap Master and has been honored at UCLA's Women in Tap along with her idols Ginger Rogers and Eleanor Powell.  Terry was resident choreographer, lead dancer and back-up singer with the Solid Gold recording group, The Spiral Starecase, touring with the group for ten years.  Their song, "More Today than Yesterday" is in the Rock and Roll Hall of Fame.  She has staged Las Vegas premiers, dinner theater, stage acts, and the Mrs. America and Mrs. World pageants.  Terry has created choreography for musical theater, dance companies, and dance-based academies. Terry teaches privately, and her passion to train the next generation thrives.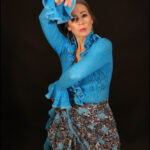 Laura Onizuka - Flamenco Dance
Laura Onizuka is the founder and owner of Experience Flamenco. She has become a conduit of flamenco in the Pacific Northwest organizing classes, workshops, and events for the community. 
She leads yearly flamenco tours to Spain where students from all over the world join her to experience flamenco in its birthplace. She loves sharing her love of flamenco in Spain with others while furthering her study of this complex art form.
Laura has performed with such renown artists as Latin Grammy winning flamenco guitarist, Antonio Rey, Ricardo López, Manuel Gutierrez, and Nat Hulskamp and Lamiae Naki of Seffarine.
Laura is fueled by the challenge and beauty of flamenco. She believes anyone who is moved by flamenco has the capability to access it.
Website: experienceflamenco.com
Class info (general): https://www.experienceflamenco.com/portland-flamenco-classes
Registration: https://www.experienceflamenco.com/class-registration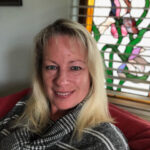 Julie Lane - Shining Stars
Julie Lane is an educational coordinator for the West Linn-Wilsonville School District and in her spare time directs the 100+ person, double-cast West Linn-Wilsonville Middle School Musical presenting popular classics such as Shrek, Grease (School Edition), Disney's Beauty and the Beast and Bye Bye Birdie. She believes in the power of theatre, especially for today's youth, and can't wait to work with the Lakewood team once again to bring more young people to the stage.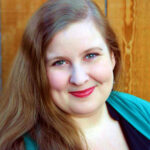 Kaeli Porter - Shining Stars
A Portland native, Kaeli Porter has been involved in music and theatre since childhood.  She sang in the Pacific Youth Choir, Oregon Repertory Singers and Cleveland High School Choirs and participated in plays at the Northwest Children's Theater.  She holds a Bachelors of Music Education from University of Oregon (2008) and a Master of Music in Conducting from Portland State University (2014).  Currently, Kaeli teaches choir and drama at Inza R. Wood Middle School in Wilsonville and provides musical direction for the West Linn-Wilsonville Middle School Musical along with her partner in all things theater, Julie Lane.  In her spare time, Kaeli is the Soprano Section Leader in the choir at St. Michael and All Angels Church in NE Portland and serves on the boards of the Pacific Youth Choir and the Oregon Chapter of the American Choral Directors Association.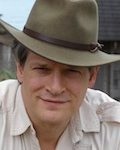 Laurence Overmire - Finding Your Ancestral Gold, Genealogist
Laurence Overmire is an actor, director, educator, poet and genealogist. Graduating with an M.F.A. from the University of Minnesota, he began his professional acting career with the Guthrie Theater in Minneapolis and has performed on Broadway in Amadeus as well as the New York Shakespeare Festival and the television soap operas All My Children and Loving. He has an international reputation as a poet and has been involved with the NEA's Poetry Out Loud program for several years.
Overmire has spent much of the last two decades involved in genealogy research. He created several reference databases online including The Ancestry of Overmire, Tifft, Richardson, Bradford, Reed, which has received over 1.8 million hits and has helped hundreds of thousands of people trace their family trees. He is also the author of five genealogy books. His latest is Digging For Ancestral Gold: The Fun and Easy Way to Start Your Genealogy Quest. Laurence has been an arts educator for over 30 years and currently teaches Oregon Children's Theatre's Loud and Clear public speaking program.
Sandra Peabody - Acting, TV/Film
Sandra Peabody is an Emmy-award winning writer/producer/director and has worked in film and broadcast television. She is a graduate of the Neighborhood Playhouse in New York City where she studied with master acting teacher Sanford Meisner for two years. She also studied drama at Carnegie-Mellon University, and later earned a B.A. in Arts and Letters. As a teacher and coach for the past twenty-five years, Sandra develops actors and also teaches speech. She splits her time between Los Angeles and the Northwest to help prepare talent for a professional career. She is proud of her students careers which range from becoming a lawyer, novelist, and teacher, to a television reporter, host, and actor. Students acting credits include; leads and series regulars on Breaking In (FOX), The Pretty Little Liars (FAMILY), The Loop (CW), Grounded for Life (WB), All about Us (NBC), The Reaper (CW) and reoccurring episodes on "V" (ABC), and Dexter (SHOWTIME).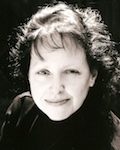 Cyndy Ramsey-Rier - Musical Direction, Vocal Coaching
Cyndy has been the musical director for the drama program at LaSalle Catholic College Prep, conducting over thirty productions, among them Into The Woods, Les Miserables, Gypsy, Mack & Mabel, My Fair Lady, Man of La Mancha, and The Mikado. Other musical direction projects include The Big Bang (Triangle Productions) and Urinetown (Portland State University). A longtime member of the Portland theatre community, she was last seen onstage in The Philadelphia Story at Clackamas Rep and Sealed for Freshness and Hats! The Musical for Triangle Productions. Favorite roles include: Anna in The King and I (Drammy Award for Actress in a musical), Mrs. Malloy in Hello, Dolly!, Marian Paroo in The Music Man (Oregon Theatrical Award Society Award for Best Actress Musical), Johanna in Sweeney Todd, Agnes in I Do! I Do!, and the title roles in Mame and Little Mary Sunshine. In addition to being a "soprano for hire," Cyndy is a voice teacher and vocal coach, with a private studio in Beaverton.
To register online Click here.
For a printable registration form Click here.
If you are unable to register online please contact our office, 503-635-3901, and we can assist you.