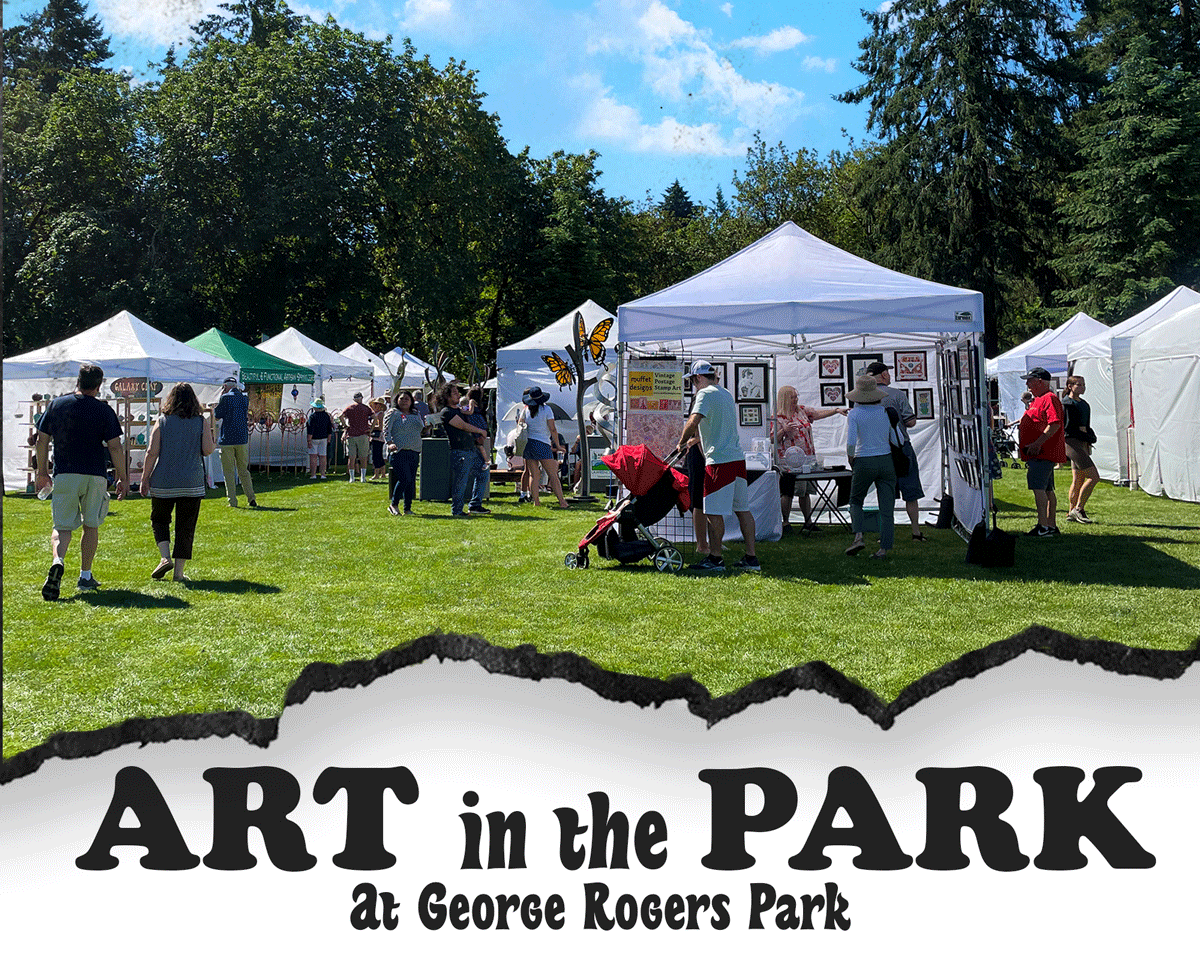 Art in the Park is a juried show, and booths are also judged on Friday morning and the most outstanding artists are awarded blue ribbons, emerging artist awards, honorable mentions or Best in Show!
We keep the judge anonymous until after the Festival. Our Judge for the AIP 2023 offers a 40 year career in the Arts. They have lived in various locations throughout the country both rural and big cities such as: Concord, NH., Denver, Co., SantaFe , NM. Chicago, Il. & Portland, Oregon since 1985.
They earned their Fine Art/Art History degree at Connecticut College. In the 80.s and then went on to study Design for five additional years at the Oregon College of Art and Craft.
Over the years this Judge has managed galleries in many of the locations listed above. They have also served as a juror for large and small shows in Oregon. This Juror has also produced artwork in Fiber Arts-specifically Pictorial Tapestry commissions,  taught water-based media to all ages and currently sells original Plein Air oil paintings to a national clientele.
Here is our current listing of Art in the Park Artists! Booth numbers will be posted in early June.
| First Name | Last Name | Booth Number | Medium | Website | |
| --- | --- | --- | --- | --- | --- |
| Jake | Szramek | A1 | Woodworking | | |
| Rebekah | Zeimetz | A10 | Painting | bekahzeimetz.com | |
| Les | Lively | A11 | Woodworking | Livelyfinefurniture.com | |
| Jack | Wray | A12 | Painting | jackwrayartist.com | |
| Joel | Knudsen | A13 | Functional Metalwork | | |
| Collette | Vale | A14 | 3D Mixed Media | coppermoonartisan.net | |
| Molly | Bennett | A15 | Jewelry | | |
| Merritt | Richardson | A16 | Painting | | |
| Lessa | Clayton | A18 | Painting | paintings.lessaclayton.com | |
| Vitalii | Savchuk | A2 | Woodworking | | |
| Ken | Wulf | A21 | Photography | | |
| Emily | Humphreys | A22 | Jewelry | | |
| Tai | Vautier | A25 | Jewelry | TaiVautierJewelry.com | |
| Amy | Fields | A26 | Ceramics | amyfieldsceramics.com | |
| Cristi | Mason-Rivera | A27-A28 | Sculpture | masonriverasculpture.com | |
| Steve | Davis | A29-A30 | Sculpture | gowiththeflowfountains.com | |
| Jeni | Lee | A3-A4 | Painting | jenileeart.com | |
| Steve | Hopkins | A31 | Functional Metalwork | hoppysgardenart.com | |
| Lenor | Bingham | A5 | 2D Mixed Media | lenorb.com | |
| Tyler | Haas | A6 | Jewelry | tylerhaasdesigns.com | |
| Mari | Aoki Knight | A9 | Jewelry | mari-wearableglassart.com | |
| David | Dahlquist | B1 | Ceramics | yellowbirdpottery.net | |
| Hung | Pham | B10 | Painting | phamquochung.weebly.com | |
| Michael | Strong | B11 | Sculpture | getbentcopperworks.com | |
| Joachim | Mcmillan | B12 | Painting | joachimmcmillan.com | |
| Craig | Hagstrom | B13 | Jewelry | | |
| Erin | Pietsch | B14 | Ceramics | erinlpietsch.fineartstudioonline.com | |
| Karina | Masaya | B15 | Fiber-Wearable | | |
| Gary | Bodker | B16 | Glass | pecoff.com | |
| Cherish | Dahinden | B2 | Jewelry | Wildflowear.etsy.com | |
| Sachiko | Quinn | B3 | 2D Mixed Media | sachikoquinn.artspan.com | |
| Jess | Guatney | | Ceramics | jessguatney.com | |
| Doug | Bailey | B4 | Functional Metalwork | | |
| Seiko | Hirose | B5 | Jewelry | | |
| Cheryl | Brown | B6 | 2D Mixed Media | cherylbrownstudio.com | |
| Denise | Weston | B7 | Painting | deniseclarkweston.com | |
| Ilse | Coffman | B8 | 2D Mixed Media | ilsecoffman.com | |
| Eldon | Conder | B9 | 2D Mixed Media | rock-pictures.com | |
| Tim | Gault | C1 | Painting | timgault.com | |
| Ellie | Purvis | C10 | Woodworking | mthoodcraft.com | |
| Jenny | Foulkes | C11 | Jewelry | jennyfoulkesjewelry.com | |
| Neil | Austin | C12 | Woodworking | | |
| Grant | Pecoff | C13-C14 | Painting | pecoff.com | |
| Nicholas | Vicknair | C15-C16 | 2D Mixed Media | nicholasvicknairdesigns.com | |
| Debby | Gumke | C2 | Fiber-Wearable | etsy.com/shop/moltwear | |
| Janel | Pahl | C3 | | janelpahlart.com | |
| Laura | Koppes | C4 | Painting | etsy.com/shop/ArtofLauraKoppes | |
| LothLorien | Stewart | C5 | Jewelry | mostlysweet.com | |
| John | Qu | C6 | Photography | qkphoto.com | |
| Jan | Schultz | C7-C8 | 3D Mixed Media | | |
| Maile | Sand | C9 | Painting | canopyartstudio.com | |
| Megan | White | D1 | Ceramics | mwhipottery.com | |
| Carisa | Miller | D10 | Ceramics | lulapottery.com | |
| Samba | Daramy | D11 | Fiber-Wearable | | |
| Chris | Friesen | D12 | Painting | | |
| Rosie | Augustine | D13 | Digital 2D Art | rosieaugustine.com | |
| Arkady | Ava | D14 | Leather Craft | | |
| Heather | Kolbo | D15 | 2D Mixed Media | hkdesignpdx.com | |
| Cheryl | Chapman | D16 | Glass | sillydogartglass.com | |
| Eunice | Kim | D2 | Painting | | |
| Sheeja | P | D3 | Painting | artbysheejamohan.com | |
| Wendy | Stauffer | D4 | Jewelry | wendystaufferjewelry.com | |
| Nina | Alderete | D5 | 2D Mixed Media | | |
| Kasey | Wanford | D6 | Emerging Artist | tdlart.com | |
| Maia | Leisz | D7 | Painting | maialeisz.com | |
| Jessica | Norman | D8 | New Media | jessbecauseartco.com | |
| Anya | Norcross | D9 | Jewelry | instagram.com/musingmousestudio | |
| Shelli | Kahl | E1 | Jewelry | shellbell.com | |
| Lilliane | Kemp | E10 | Jewelry | | |
| William | Vanscoy | E11 | Photography | vanscoyphotography.com | |
| Sys | Johnston | E12 | 3D Mixed Media | qvistdesign.etsy.com | |
| Molly | Reeves | E13 | Painting | mollyreeves.com | |
| Krystal | Munday | E14 | Jewelry | | |
| Paulina | Kriebel | E15-E16 | Fiber-Wearable | briekriebelclothing.com | |
| Andy | Thorp | E2 | Woodworking | geometricforest.com | |
| Diane | Rodriguez | E3 | Fiber-Wearable | tenayablue.com | |
| Hui-Yong | Kim | E4 | Ceramics | galaxyclay.com | |
| Shelley | Cheevers | E5 | Fiber-Decorative | instagram.com/scfiberarts | |
| Paula | Litchfield | E6 | Painting | paulalitchfieldfineart.com | |
| Kitana | Connelly | E7 | Emerging Artist | instagram.com/creatortwahna | |
| Catherine | Freshley | E8 | Painting | catherinefreshleyart.com | |
| Angela | Dallas | E9 | Fiber-Decorative | | |
| Mitzi | Kugler | F1 | Glass | mitzikart.com | |
| Kathryn | Wright Apenes | F10 | Painting | kwastudio.com | |
| Cassandra | Lenzini | F11 | Jewelry | vitalelementjewelry.com | |
| Ian | Petersen | F12 | Digital 2D Art | mapyouradventure.com | |
| Heather | Adamek | F13 | Painting | heatheradamek.com | |
| Scott | Smorra | F14 | Photography | scottsmorraphotography.com | |
| Wendy | Davis | F2 | Painting | wendydavispaintings.com | |
| Emma | Bennet | F3 | Jewelry | | |
| Celeste | Wong | F4 | New Media | celestewatch.com | |
| Ling-Yen | Jones | F5 | Jewelry | ling-yendesigns.com | |
| Andrea | Lopez | F6 | 2D Mixed Media | andrealopez.gallery | |
| Jennifer | Petersen | F7 | Jewelry | shopunab.co | |
| Halina | Domanski | F8 | 2D Mixed Media | halinadomanski.com | |
| Natalie | Warrens | F9 | Ceramics | nataliewarrens.com | |
| Marykate | Pennington | G1 | 2D Mixed Media | artnwordz.com | |
| Lani | Pietka | G10 | Photography | pietkaphotography.com | |
| John | Harden | G11 | Woodworking | johnhardendesign.com | |
| Robin | Hostick | G12 | Painting | robinhostickart.com | |
| Barbara | Weiss | G13 | 2D Mixed Media | barbaraweissart.net | |
| Ha | Austin | G14 | Ceramics | haaustinceramics.com | |
| Thomas | Sauve | G2 | Jewelry | manamai.wixsite.com/sauve-jewelry | |
| David | Friedman | G3 | 2D Mixed Media | friedart.com | |
| Damon | Vracin | G4 | Leather Craft | etsy.com/shop/nomadleathernw | |
| Mariusz | Rynkiewicz | G5 | Glass | mariuszart.com | |
| Lee | Morrison | G6 | Painting | Leemorrisonart.com | |
| Peter | Sibbett | G7 | Woodworking | | |
| Elizabeth | Bookey | G8 | Emerging Artist | daydreamingcrafts.com | |
| Nathan | Roberts | G9 | 2D Mixed Media | nathanrobertsartstore.com | |
| | | | | | |
| | | | | | |
| | | | | | |
| | | | | | |
| | | | | | |
| | | | | | |
| | | | | | |
| | | | | | |
| | | | | | |
| | | | | | |
| | | | | | |
| | | | | | |
| | | | | | |
| | | | | | |
| | | | | | |
| | | | | | |
| | | | | | |
| | | | | | |
| | | | | | |
| | | | | | |
| | | | | | |
| | | | | | |
| | | | | | |
| | | | | | |
| | | | | | |
| | | | | | |
| | | | | | |
| | | | | | |
| | | | | | |
| | | | | | |
| | | | | | |
| | | | | | |
| | | | | | |
| | | | | | |
| | | | | | |
| | | | | | |
| | | | | | |
| | | | | | |
| | | | | | |
| | | | | | |
| | | | | | |
| | | | | | |
| | | | | | |
| | | | | | |
| | | | | | |
| | | | | | |
| | | | | | |
| | | | | | |
| | | | | | |
| | | | | | |
| | | | | | |
| | | | | | |
| | | | | | |
| | | | | | |
| | | | | | |
| | | | | | |
| | | | | | |
| | | | | | |
| | | | | | |
| | | | | | |
| | | | | | |
| | | | | | |
| | | | | | |
| | | | | | |
| | | | | | |
| | | | | | |
| | | | | | |
| | | | | | |
| | | | | | |
| | | | | | |
| | | | | | |
| | | | | | |
| | | | | | |
| | | | | | |
| | | | | | |
| | | | | | |
| | | | | | |
| | | | | | |
| | | | | | |
| | | | | | |
| | | | | | |
| | | | | | |
| | | | | | |
| | | | | | |
| | | | | | |
| | | | | | |
| | | | | | |
| | | | | | |
| | | | | | |
| | | | | | |
| | | | | | |
| | | | | | |
| | | | | | |
| | | | | | |
| | | | | | |
| | | | | | |
| | | | | | |
| | | | | | |
| | | | | | |
| | | | | | |
| | | | | | |
| | | | | | |
| | | | | | |
| | | | | | |
| | | | | | |
| | | | | | |
| | | | | | |
| | | | | | |
| | | | | | |
| | | | | | |
| | | | | | |
| | | | | | |
| | | | | | |
| | | | | | |
| | | | | | |
| | | | | | |
| | | | | | |
| | | | | | |
| | | | | | |
| | | | | | |
| | | | | | |
| | | | | | |
| | | | | | |
| | | | | | |
| | | | | | |
| | | | | | |
| | | | | | |
| | | | | | |
| | | | | | |
| | | | | | |
| | | | | | |
| | | | | | |
| | | | | | |
| | | | | | |
| | | | | | |
| | | | | | |
| | | | | | |
| | | | | | |
| | | | | | |
| | | | | | |
| | | | | | |
| | | | | | |
| | | | | | |
| | | | | | |
| | | | | | |
| | | | | | |
| | | | | | |
| | | | | | |
| | | | | | |
| | | | | | |
| | | | | | |
| | | | | | |
| | | | | | |
| | | | | | |
| | | | | | |
| | | | | | |
| | | | | | |
| | | | | | |
| | | | | | |
| | | | | | |
| | | | | | |
| | | | | | |
| | | | | | |
| | | | | | |
| | | | | | |
| | | | | | |
| | | | | | |
| | | | | | |
| | | | | | |
| | | | | | |
| | | | | | |
| | | | | | |
| | | | | | |
| | | | | | |
| | | | | | |
| | | | | | |
| | | | | | |
| | | | | | |
| | | | | | |
| | | | | | |
| | | | | | |
| | | | | | |
| | | | | | |
| | | | | | |
| | | | | | |
| | | | | | |
| | | | | | |
| | | | | | |
| | | | | | |
| | | | | | |
| | | | | | |
| | | | | | |
| | | | | | |
| | | | | | |
| | | | | | |
| | | | | | |
| | | | | | |
| | | | | | |
| | | | | | |
| | | | | | |
| | | | | | |
| | | | | | |
| | | | | | |
| | | | | | |
| | | | | | |
| | | | | | |
| | | | | | |
| | | | | | |
| | | | | | |
| | | | | | |
| | | | | | |
| | | | | | |
| | | | | | |
| | | | | | |
| | | | | | |
| | | | | | |
| | | | | | |
| | | | | | |
| | | | | | |
| | | | | | |
| | | | | | |
| | | | | | |
| | | | | | |
| | | | | | |
| | | | | | |
| | | | | | |
| | | | | | |
| | | | | | |
| | | | | | |
| | | | | | |
| | | | | | |
| | | | | | |
| | | | | | |
| | | | | | |
| | | | | | |
| | | | | | |
| | | | | | |
| | | | | | |
| | | | | | |
| | | | | | |
| | | | | | |
| | | | | | |
| | | | | | |
| | | | | | |
| | | | | | |
| | | | | | |
| | | | | | |
| | | | | | |
| | | | | | |
| | | | | | |
| | | | | | |
| | | | | | |
| | | | | | |
| | | | | | |
| | | | | | |
| | | | | | |
| | | | | | |
| | | | | | |
| | | | | | |
| | | | | | |
| | | | | | |
| | | | | | |
| | | | | | |
| | | | | | |
| | | | | | |
| | | | | | |
| | | | | | |
| | | | | | |
| | | | | | |
| | | | | | |
| | | | | | |
| | | | | | |
| | | | | | |
| | | | | | |
| | | | | | |
| | | | | | |
| | | | | | |
| | | | | | |
| | | | | | |
| | | | | | |
| | | | | | |
| | | | | | |
| | | | | | |
| | | | | | |
| | | | | | |
| | | | | | |
| | | | | | |
| | | | | | |
| | | | | | |
| | | | | | |
| | | | | | |
| | | | | | |
| | | | | | |
| | | | | | |
| | | | | | |
| | | | | | |
| | | | | | |
| | | | | | |
| | | | | | |
| | | | | | |
| | | | | | |
| | | | | | |
| | | | | | |
| | | | | | |
| | | | | | |
| | | | | | |
| | | | | | |
| | | | | | |
| | | | | | |
| | | | | | |
| | | | | | |
| | | | | | |
| | | | | | |
| | | | | | |
| | | | | | |
| | | | | | |
| | | | | | |
| | | | | | |
| | | | | | |
| | | | | | |
| | | | | | |
| | | | | | |
| | | | | | |
| | | | | | |
| | | | | | |
| | | | | | |
| | | | | | |
| | | | | | |
| | | | | | |
| | | | | | |
| | | | | | |
| | | | | | |
| | | | | | |
| | | | | | |
| | | | | | |
| | | | | | |
| | | | | | |
| | | | | | |
| | | | | | |
| | | | | | |
| | | | | | |
| | | | | | |
| | | | | | |
| | | | | | |
| | | | | | |
| | | | | | |
| | | | | | |
| | | | | | |
| | | | | | |
| | | | | | |
| | | | | | |
| | | | | | |
| | | | | | |
| | | | | | |
| | | | | | |
| | | | | | |
| | | | | | |
| | | | | | |
| | | | | | |
| | | | | | |
| | | | | | |
| | | | | | |
| | | | | | |
| | | | | | |
| | | | | | |
| | | | | | |
| | | | | | |
| | | | | | |
| | | | | | |
| | | | | | |
| | | | | | |
| | | | | | |
| | | | | | |
| | | | | | |
| | | | | | |
| | | | | | |
| | | | | | |
| | | | | | |
| | | | | | |
| | | | | | |
| | | | | | |
| | | | | | |
| | | | | | |
| | | | | | |
| | | | | | |
| | | | | | |
| | | | | | |
| | | | | | |
| | | | | | |
| | | | | | |
| | | | | | |
| | | | | | |
| | | | | | |
| | | | | | |
| | | | | | |
| | | | | | |
| | | | | | |
| | | | | | |
| | | | | | |
| | | | | | |
| | | | | | |
| | | | | | |
| | | | | | |
| | | | | | |
| | | | | | |
| | | | | | |
| | | | | | |
| | | | | | |
| | | | | | |
| | | | | | |
| | | | | | |
| | | | | | |
| | | | | | |
| | | | | | |
| | | | | | |
| | | | | | |
| | | | | | |
| | | | | | |
| | | | | | |
| | | | | | |
| | | | | | |
| | | | | | |
| | | | | | |
| | | | | | |
| | | | | | |
| | | | | | |
| | | | | | |
| | | | | | |
| | | | | | |
| | | | | | |
| | | | | | |
| | | | | | |
| | | | | | |
| | | | | | |
| | | | | | |
| | | | | | |
| | | | | | |
| | | | | | |
| | | | | | |
| | | | | | |
| | | | | | |
| | | | | | |
| | | | | | |
| | | | | | |
| | | | | | |
| | | | | | |
| | | | | | |
| | | | | | |
| | | | | | |
| | | | | | |
| | | | | | |
| | | | | | |
| | | | | | |
| | | | | | |
| | | | | | |
| | | | | | |
| | | | | | |
| | | | | | |
| | | | | | |
| | | | | | |
| | | | | | |
| | | | | | |
| | | | | | |
| | | | | | |
| | | | | | |
| | | | | | |
| | | | | | |
| | | | | | |
| | | | | | |
| | | | | | |
| | | | | | |
| | | | | | |
| | | | | | |
| | | | | | |
| | | | | | |
| | | | | | |
| | | | | | |
| | | | | | |
| | | | | | |
| | | | | | |
| | | | | | |
| | | | | | |
| | | | | | |
| | | | | | |
| | | | | | |
| | | | | | |
| | | | | | |
| | | | | | |
| | | | | | |
| | | | | | |
| | | | | | |
| | | | | | |
| | | | | | |
| | | | | | |
| | | | | | |
| | | | | | |
| | | | | | |
| | | | | | |
| | | | | | |
| | | | | | |
| | | | | | |
| | | | | | |
| | | | | | |
| | | | | | |
| | | | | | |
| | | | | | |
| | | | | | |
| | | | | | |
| | | | | | |
| | | | | | |
| | | | | | |
| | | | | | |
| | | | | | |
| | | | | | |
| | | | | | |
| | | | | | |
| | | | | | |
| | | | | | |
| | | | | | |
| | | | | | |
| | | | | | |
| | | | | | |
| | | | | | |
| | | | | | |
| | | | | | |
| | | | | | |
| | | | | | |
| | | | | | |
| | | | | | |
| | | | | | |
| | | | | | |
| | | | | | |
| | | | | | |
| | | | | | |
| | | | | | |
| | | | | | |
| | | | | | |
| | | | | | |
| | | | | | |
| | | | | | |
| | | | | | |
| | | | | | |
| | | | | | |
| | | | | | |
| | | | | | |
| | | | | | |
| | | | | | |
| | | | | | |
| | | | | | |
| | | | | | |
| | | | | | |
| | | | | | |
| | | | | | |
| | | | | | |
| | | | | | |
| | | | | | |
| | | | | | |
| | | | | | |
| | | | | | |
| | | | | | |
| | | | | | |
| | | | | | |
| | | | | | |
| | | | | | |
| | | | | | |
| | | | | | |
| | | | | | |
| | | | | | |
| | | | | | |
| | | | | | |
| | | | | | |
| | | | | | |
| | | | | | |
| | | | | | |
| | | | | | |
| | | | | | |
| | | | | | |
| | | | | | |
| | | | | | |
| | | | | | |
| | | | | | |
| | | | | | |
| | | | | | |
| | | | | | |
| | | | | | |
| | | | | | |
| | | | | | |
| | | | | | |
| | | | | | |
| | | | | | |
| | | | | | |
| | | | | | |
| | | | | | |
| | | | | | |
| | | | | | |
| | | | | | |
| | | | | | |
| | | | | | |
| | | | | | |
| | | | | | |
| | | | | | |
| | | | | | |
| | | | | | |
| | | | | | |
| | | | | | |
| | | | | | |
| | | | | | |
| | | | | | |
| | | | | | |
| | | | | | |
| | | | | | |
| | | | | | |
| | | | | | |
| | | | | | |
| | | | | | |
| | | | | | |
| | | | | | |
| | | | | | |
| | | | | | |
| | | | | | |
| | | | | | |
| | | | | | |
| | | | | | |
| | | | | | |
| | | | | | |
| | | | | | |
| | | | | | |
| | | | | | |
| | | | | | |
| | | | | | |
| | | | | | |
| | | | | | |
| | | | | | |
| | | | | | |
| | | | | | |
| | | | | | |
| | | | | | |
| | | | | | |
| | | | | | |
| | | | | | |
| | | | | | |
| | | | | | |
| | | | | | |
| | | | | | |
| | | | | | |
| | | | | | |
| | | | | | |
| | | | | | |
| | | | | | |
| | | | | | |
| | | | | | |
| | | | | | |
| | | | | | |
| | | | | | |
| | | | | | |
| | | | | | |
| | | | | | |
| | | | | | |
| | | | | | |
| | | | | | |
| | | | | | |
| | | | | | |
| | | | | | |
| | | | | | |
| | | | | | |
| | | | | | |
| | | | | | |
| | | | | | |
| | | | | | |
| | | | | | |
| | | | | | |
| | | | | | |
| | | | | | |
| | | | | | |
| | | | | | |
| | | | | | |
| | | | | | |
| | | | | | |
| | | | | | |
| | | | | | |
| | | | | | |
| | | | | | |
| | | | | | |
| | | | | | |
| | | | | | |
| | | | | | |
| | | | | | |
| | | | | | |
| | | | | | |
| | | | | | |
| | | | | | |
| | | | | | |
| | | | | | |
| | | | | | |
| | | | | | |
| | | | | | |
| | | | | | |
| | | | | | |
| | | | | | |
| | | | | | |
| | | | | | |
| | | | | | |
| | | | | | |
| | | | | | |
| | | | | | |
| | | | | | |
| | | | | | |
| | | | | | |
| | | | | | |
| | | | | | |
| | | | | | |
| | | | | | |
| | | | | | |
| | | | | | |
| | | | | | |
| | | | | | |
| | | | | | |
| | | | | | |
| | | | | | |
| | | | | | |
| | | | | | |
| | | | | | |
| | | | | | |
| | | | | | |
| | | | | | |
| | | | | | |
| | | | | | |
| | | | | | |
| | | | | | |
| | | | | | |
| | | | | | |
| | | | | | |
| | | | | | |
| | | | | | |
| | | | | | |
| | | | | | |
| | | | | | |
| | | | | | |
| | | | | | |
| | | | | | |
| | | | | | |
| | | | | | |
| | | | | | |
| | | | | | |
| | | | | | |
| | | | | | |
| | | | | | |
| | | | | | |
| | | | | | |
| | | | | | |
| | | | | | |
| | | | | | |
| | | | | | |
| | | | | | |
| | | | | | |
| | | | | | |
| | | | | | |
| | | | | | |
| | | | | | |
| | | | | | |
| | | | | | |
| | | | | | |
| | | | | | |
| | | | | | |
| | | | | | |
| | | | | | |
| | | | | | |
| | | | | | |
| | | | | | |
| | | | | | |
| | | | | | |
| | | | | | |
| | | | | | |
| | | | | | |
| | | | | | |
| | | | | | |
| | | | | | |
| | | | | | |
| | | | | | |
| | | | | | |
| | | | | | |
| | | | | | |
| | | | | | |
| | | | | | |
| | | | | | |
| | | | | | |
| | | | | | |
| | | | | | |
| | | | | | |
| | | | | | |
| | | | | | |
| | | | | | |
| | | | | | |
| | | | | | |
| | | | | | |
| | | | | | |
| | | | | | |
| | | | | | |
| | | | | | |
| | | | | | |
| | | | | | |
| | | | | | |
| | | | | | |
| | | | | | |
| | | | | | |
| | | | | | |
| | | | | | |
| | | | | | |
| | | | | | |
| | | | | | |
| | | | | | |
| | | | | | |
| | | | | | |
| | | | | | |
| | | | | | |
| | | | | | |
| | | | | | |
| | | | | | |
| | | | | | |
| | | | | | |
| | | | | | |
| | | | | | |
| | | | | | |
| | | | | | |
| | | | | | |
| | | | | | |
| | | | | | |
| | | | | | |
| | | | | | |
| | | | | | |
| | | | | | |
| | | | | | |
| | | | | | |
| | | | | | |
| | | | | | |
| | | | | | |
| | | | | | |
| | | | | | |
| | | | | | |
| | | | | | |
| | | | | | |
| | | | | | |
| | | | | | |
| | | | | | |
| | | | | | |
| | | | | | |
| | | | | | |
| | | | | | |
| | | | | | |
| | | | | | |
| | | | | | |
| | | | | | |
| | | | | | |
| | | | | | |
| | | | | | |
| | | | | | |
| | | | | | |
| | | | | | |
| | | | | | |
| | | | | | |
| | | | | | |
| | | | | | |
| | | | | | |
| | | | | | |
| | | | | | |
| | | | | | |
| | | | | | |
| | | | | | |
| | | | | | |
| | | | | | |
| | | | | | |
| | | | | | |
| | | | | | |