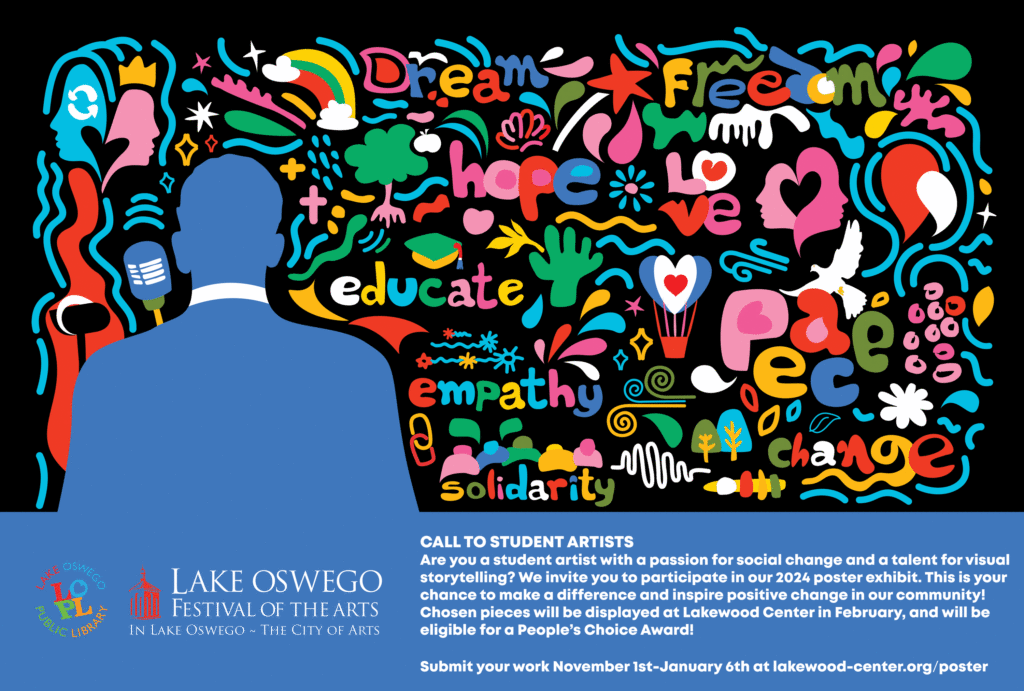 Lakewood Center for the Arts and the Lake Oswego Public Library Announce the "Unity in Diversity" Student Art Contest
Submissions open now!
Lakewood Center for the Arts, the Lake Oswego Festival of the Arts, and the Lake Oswego Public Library are thrilled to announce the "Unity in Diversity" Student Art Contest, aimed at fostering inclusivity and equity within the Lake Oswego community. This collaborative effort is a testament to our collective commitment to celebrating diversity, championing equality, and advocating for social justice.
Participants are invited to submit posters that are a call to action to create an inclusive & equitable Lake Oswego. Students of all grade levels in Lake Oswego are encouraged to participate and unleash their creative potential.
A distinguished panel of judges, comprising prominent members from the arts and social justice communities, will carefully evaluate the submissions and select five of the most impactful pieces per division: elementary school, middle school, and high school.
Selected artworks will be showcased at the community's Martin Luther King Jr. event on January 14th, as well as at a special month-long exhibition at Lakewood Center for the Arts in February 2024.
Awards: While on view, the Lake Oswego community will have the opportunity to engage with and appreciate the powerful messages conveyed by these young artists – and vote for a "People's Choice Award. " This award will be a prize basket presented by Booktique (a non-profit volunteer bookstore in Lake Oswego). In addition, the winning artist in each of the three divisions will receive a $50 cash award. Runner-ups in each division will receive a $25 cash award. Cash awards are provided courtesy Ed and Joann Frankel (patrons of Lakewood Center and Friends of the Lake Oswego Public Library) and an anonymous donor.
Natalie Wood, Artistic Development and Festival Coordinator at Lakewood Center for the Arts commented: "We believe that art has the extraordinary ability to bridge gaps and ignite conversations that lead to positive change. Through this exhibit, we hope to provide a platform for our youth to express their vision of a more inclusive and equitable society."
Submissions open November 1st. The deadline for submissions is January 4, 2024. Artists chosen to exhibit will be announced alongside an exhibit of prints of their work at the community's Martin Luther King Jr. event scheduled for Sunday, January 14, 2024, as well as on Lakewood's website and social media platforms. The People's Choice Award will be announced mid-March. For more information on submission guidelines and contest details, please visit lakewood-center.org/poster.
Submitted work can be any medium, but must be sized 11×17 inches, and must be portrait (vertical) orientation. No AI generated art will be accepted. Work will be returned to the students after the gallery exhibition and will not be for sale.
Let us unite in celebrating the rich tapestry of our community and work hand in hand to build a more inclusive and equitable Lake Oswego!
About the Martin Luther King, Jr. Community Celebration: Sunday, January 14, 2:00 pm , Lakeridge Middle School Cafeteria
Commemorate Dr. Martin Luther King, Jr.'s life and teachings with a family-friendly celebration that features artwork created by LO youth, a greeting from Mayor Joe Buck, a keynote address from Mariah Rocker of Oregon Black Pioneers, a poetry reading by Emmett Wheatfall, and musical performances by Julianne Johnson and Alonzo Chadwick, Sr. Following the program, there will be arts and crafts activities for children and a chance to learn about community service opportunities at booths staffed by local non-profit organizations whose work advances Dr. King's legacy. The City is joined by partners from African American Women of Lake Oswego and Surrounding Areas, Bahá'ís of Lake Oswego, LO for LOve, Mary's Woods, and Respond to Racism for this event.
About Lakewood Center for the Arts:
Lakewood Center's mission is to inspire and nurture a love of theatre and the arts. Located at 368 S. State Street, the non-profit arts organization utilizes every inch of the 100-year-old former school it resides in to promote that mission. Lakewood offers live professional theatre, children's theatre, art galleries, art classes, dance classes, workshops, event rental spaces, and more. Learn more about Lakewood at https://lakewood-center.org/
About the Lake Oswego Festival of the Arts:
The Lake Oswego Festival of the Arts is an arts education event of the Lakewood Center for the Arts, a 501(c)(3) nonprofit arts organization. It is held the weekend after Father's Day each year and attracts nearly 25,000 people. The 2024 Festival will be held on June 21-23. Learn more at https://lakewood-center.org/
About the Lake Oswego Public Library:
The Lake Oswego Public Library is an award-winning community resource for trusted information, enrichment, and connection. The Library supports over 43,000 people with free, high-quality services, collections and events for all ages. Nestled in the heart of Lake Oswego at 706 Fourth Street, the library provides access to over 260,000 holdings, with an annual circulation rate of around 800,000 items borrowed each year. Per capita, the average Lake Oswego resident borrows more than 18 items each year, one of the highest rates in the nation. In the last fiscal year, library staff answered over 33,000 reference questions, and hosted over 300 events or classes with a total attendance of 16,485. The library's mission: Together, we inspire discovery and cultivate wellbeing by welcoming all people to read, learn, and connect. Learn more at lopl.org
About Booktique:
The Booktique, a non-profit fundraising bookstore founded by the Friends of the Lake Oswego Public Library, has been selling used books, movies, and music in Lake Oswego since 1991. Funds raised support programs of the Library. The merchandise is donated from very supportive community readers and the stores at 4 Monroe Parkway suite D and 380 A Avenue suite B are operated by amazing and dedicated volunteers. For more info: https://www.thebooktique.org/
For additional information:
Contact: Natalie Wood
she/her/hers
Festival Artistic Development & Festival Coordinator
Office Hours: M-F 7:30-3:30PM | Zoom: 927 968 3031
Email: festival@lakewood-center.org | Phone: (503) 636-1060