The Festival is for all: Youth Activities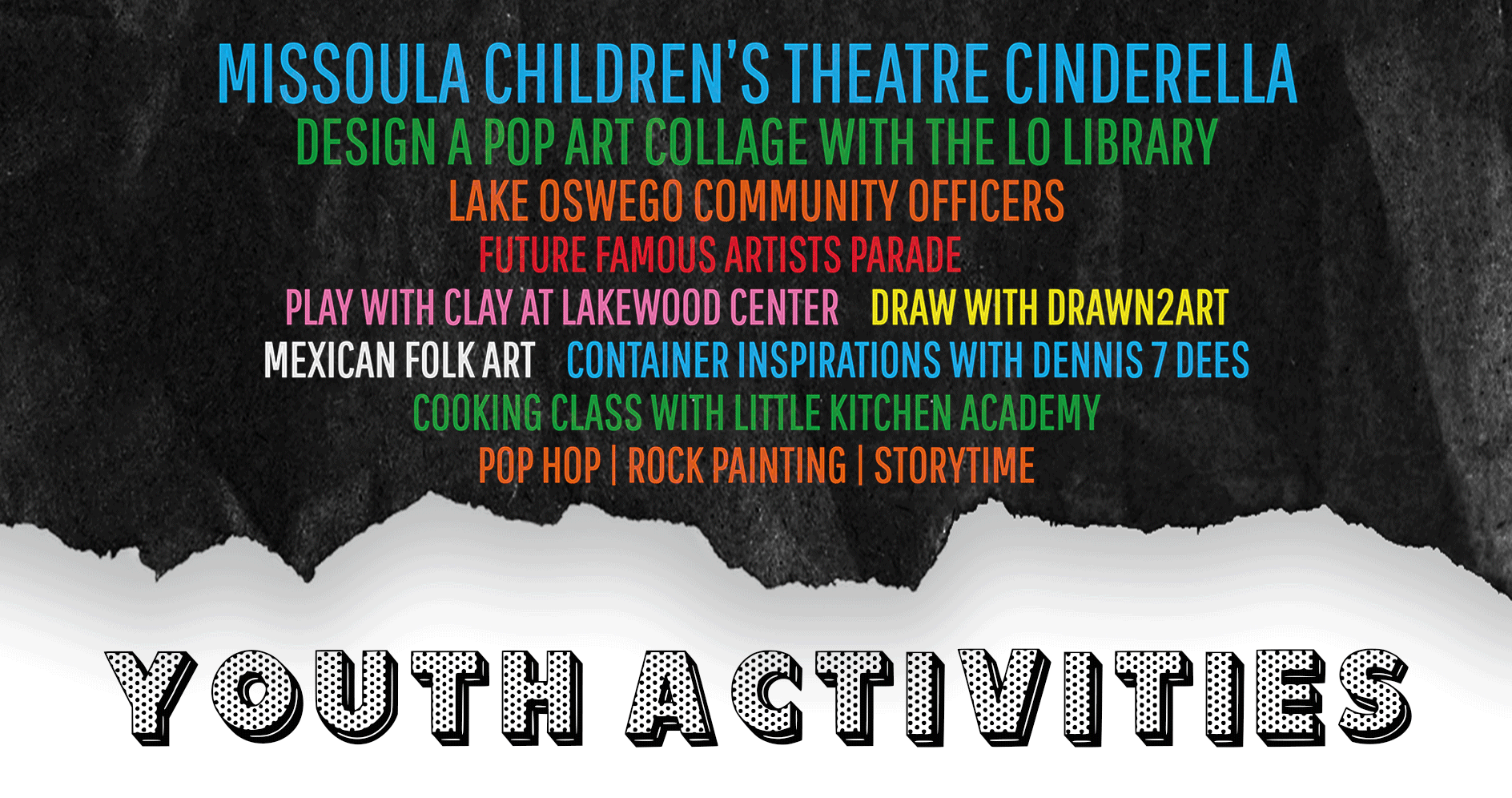 Creative and fun activities that engage youth in art-making including clay, collage, painting, and paper. Theatre, games, community officers, storytime, and a fabulous parade round out the activities!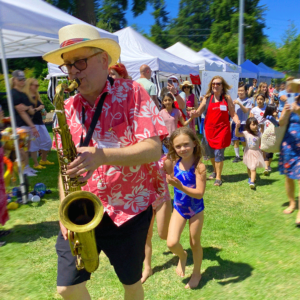 Future Famous Artists Parade. March, hop, or walk in the beloved youth parade that winds through the already-famous artists' booths in George Rogers Park. 
Design a 1960s Pop Art Collage. Create an awesome collage in the Pop Art style with volunteers from the Lake Oswego Public Library. For all ages. After the Festival, the completed collage will be on display at the library.
Discover Landscape Art with Dennis' 7 Dees. Come join us as we dive into learning about what goes into a beautiful Landscape design. We'll learn about what elements to look for in a sensory garden, and how color, shape, texture and size all play a role in building a beautiful Landscape, and you'll be able to color your own beautiful design!"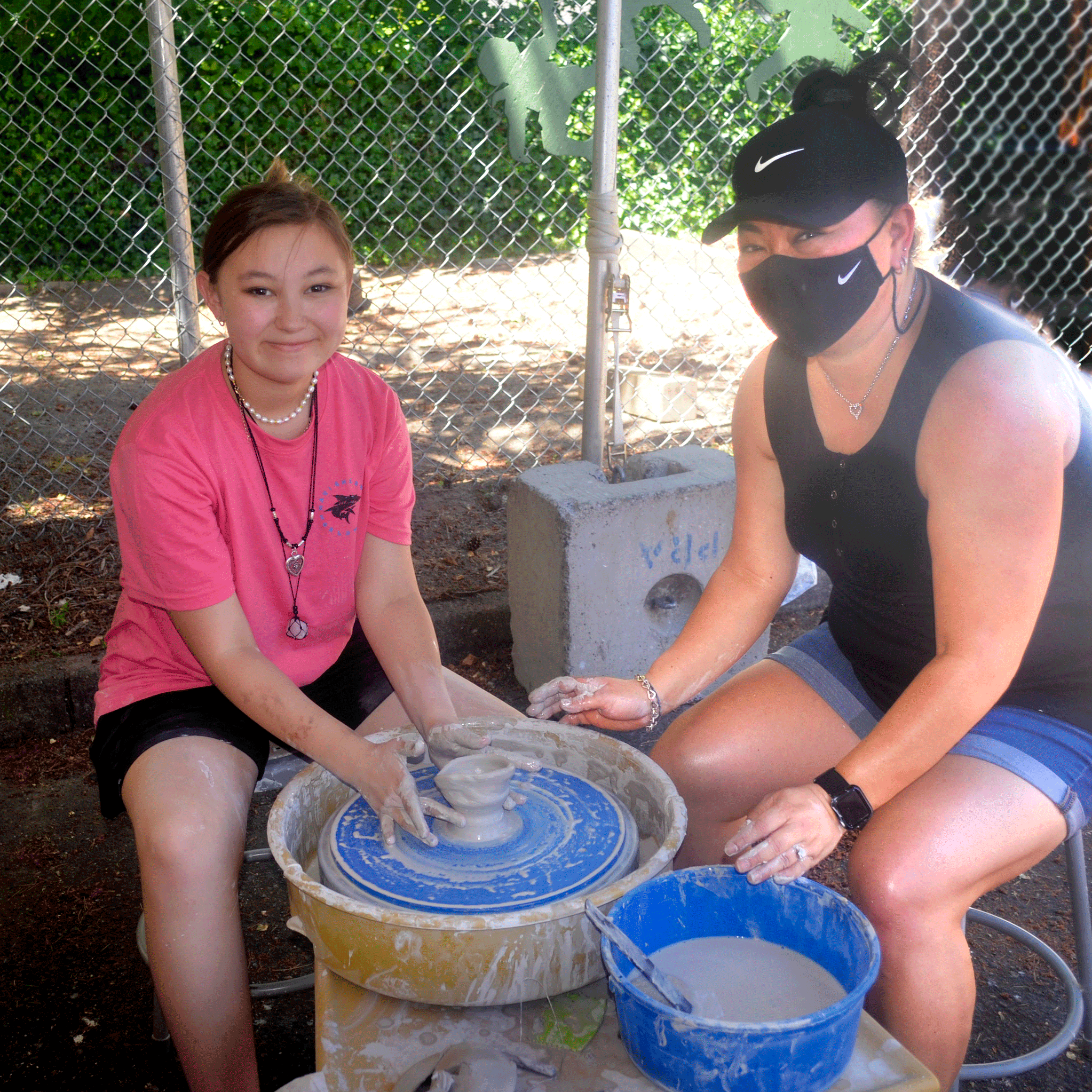 Play with Clay. Make a ceramic vessel of your own using a wheel or build a clay sculpture. If you make something you enjoy, take it home with you.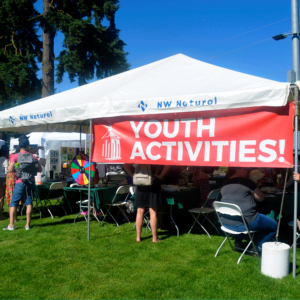 Rock Painting. Choose to paint your favorite animal, bug or flower on a rock. Or transform  your rock into a fantastic creature or a mandala. The choice is yours: keep your rock or donate it to the Lakewood Garden.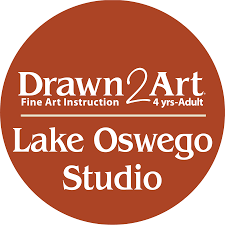 Learn to draw with Drawn2Art! Swing by the youth tent for an activity sheet with instructions on drawing from Drawn2Art.
Students, ages 4 – 12, teens and adults, begin by using drawing mediums and then move onto painting.  Simple step-by-step instruction avoids frustration, and makes learning enjoyable for all ages!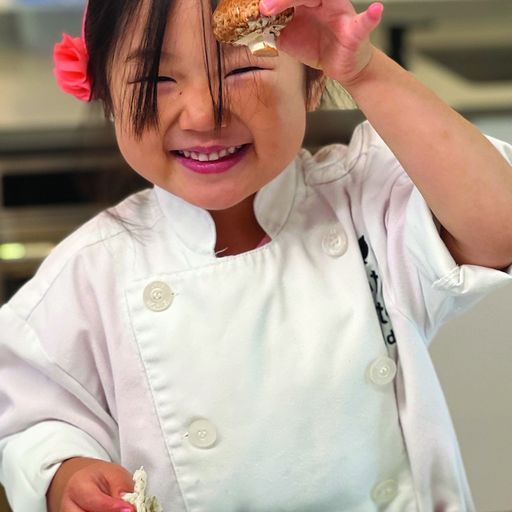 Cook with Little Kitchen Academy. Pop into the Youth Activities Tent for a 45 min cooking workshop. LKA is a Montessori-inspired cooking academy for youth. In every 3-hour class, students are empowered to cook on their own, which builds confidence and independence both in and out of the kitchen.  Classes and sessions are year-round and Summer Camps begin on June 19th!
Pop Hop. Start hoppin'! Listen to the music as you hop on a painted grid on the grass. If you land on a specific square when the music stops, you'll receive a popsicle!
Storytime. Start the morning listening to a story while having a snack. Or you can choose to read one of the books in our reading corner. Mini muffins and mini juice boxes for the children attending.
Meet the Lake Oswego Community Officers and K-9 Team. Learn how these officers serve the communities you live in and meet the working dogs of the K-9 Team.
Mexican Folk Art. Make a mini-piñata or paper flowers or paint a terracotta pot in the style of Mexican Folk Art with talented artist and Mexican Folk Art expert Elisha Robles.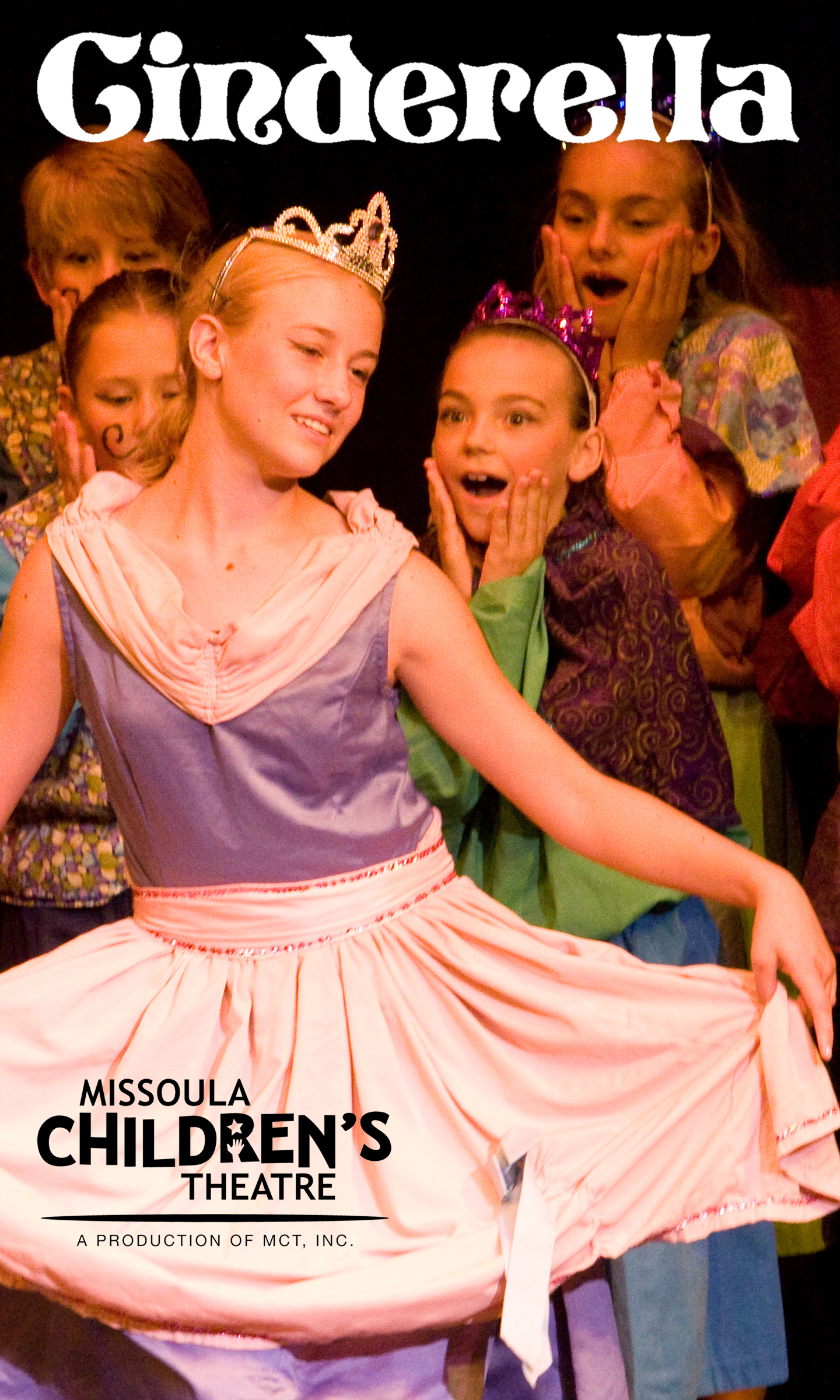 Missoula Children's Theatre CINDERELLA
Friday, June 23; 3 pm (Free)
Saturday, June 24; 10 am (Free)
George Rogers Park, Main Stage
Check out the famous Missoula Children's Theatre and its performance of Cinderella. Over 60 Lake Oswego Youth will act and sing in this classic medieval tale featuring all sorts of zany characters. The original adaptation will feature songs, costumes and delightful scenery that only Missoula Children's Theatre could provide. The performances are the climax of a week's worth of auditions and rehearsals for students in 1st through 12th grades. 
A pumpkin coach, Prince Charming, a glass slipper and a dream come true are woven together by the magic of a Fairy Godmother in this enchanting musical. When Cinderella's stepsisters try to keep Cinderella from attending the ball, the Fairy Godmother enlists the help of the Mice and the Pumpkins and is able to transform Cinderella just in time for the big event. Also featured in the production are Cleo the Cat, Fido the Dog, the Lords and Ladies, the Town Criers, the King and the Beggars. Experience the unique twist the Missoula Children's Theatre puts on this classic story.
For more information, please call Lake Oswego Parks & Recreation at 503-675-2549. 
GRP: George Rogers Park    LWC: Lakewood Center
9 am-10 am: Storytime
GRP Youth Activities Tent
10 am-noon
Design a 1960s Pop Art Collage with the Lake Oswego Library
GRP Youth Activities Tent
Noon-1 pm
Drawn2Art Drawing and Coloring
GRP Youth Activities Tent
Noon-4 pm
Play with Clay
LWC, behind Renaissance Homes Pavilion Tent
1-2 pm
Meet Lake Oswego's Community Officers and K-9 Team
GRP Youth Activities Tent
2-3 pm
Drawn2Art Drawing and Coloring
GRP Youth Activities Tent
3-4 pm
Dennis 7 Dees: Container Inspirations
GRP Youth Activities Tent
3-4:15 pm
Missoula Children's Theater: Cinderella
GRP Main Stage
4:30-5:15pm
Little Kitchen Academy Cooking Demonstration
GRP Youth Activities Tent
9 am-10 am Storytime
GRP Youth Activities Tent
10-11:30 am
Missoula Children's Theater: Cinderella
GRP Main Stage
Noon-1 pm
Future Famous Artists Parade
GRP Youth Activities Tent
Noon-4 pm
Play with Clay
LWC, behind Renaissance Homes Pavilion Tent
1-2 pm
Meet Lake Oswego's Community Officers and K-9 Team
GRP Youth Activities Tent
2-4 pm
Pop Hop (Hop for Popsicles)
GRP Youth Activities Tent
9 am-10 am: Storytime
GRP Youth Activities Tent
10 am-noon
Rock Painting
GRP Youth Activities Tent
Noon-4 pm
Play with Clay
LWC, behind Renaissance Homes Pavilion Tent
Noon-1 pm
Mexican Folk Art
GRP Youth Activities Tent
1-2 pm
Meet Lake Oswego's Community Officers and K-9 Team
GRP Youth Activities Tent
2-4 pm
Mexican Folk Art
GRP Youth Activities Tent