Something Rotten!
April 28 @ 7:30 pm

-

June 11 @ 9:30 pm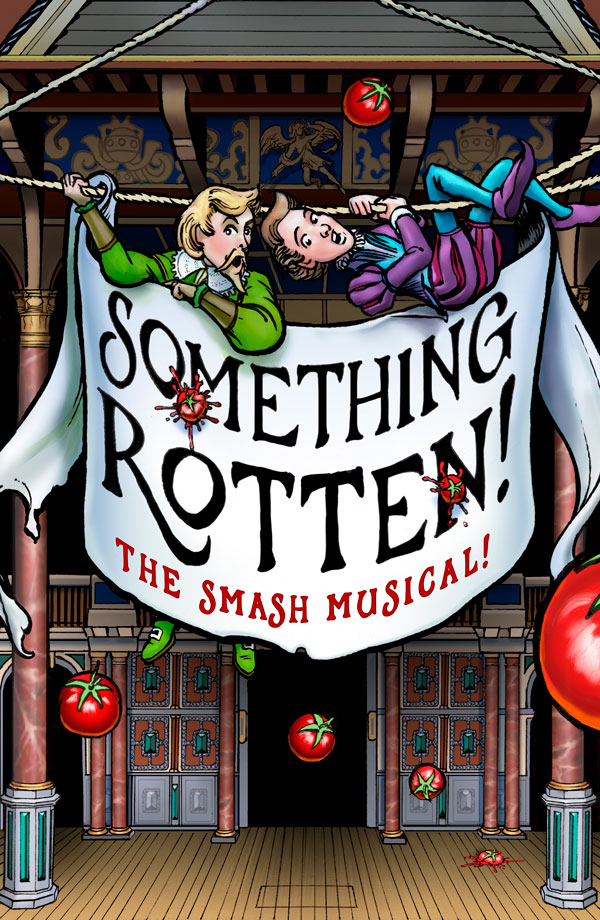 April 28 – Jun. 11, 2023
Book by: Karey Kirkpatrick & John O'Farrell
Music & Lyrics by: Wayne & Karey Kirkpatrick
Directed by: Alan Shearman
This shamelessly silly parody of Broadway musicals is a spoof of all things Shakespeare. Set in 1595, it follows the Bottom brothers, Nick, and Nigel, who struggle to find success in the theatre as they compete with their contemporary William Shakespeare.
Title Sponsor: Don & Jessie Adams, Directorial Sponsor: Samantha Richardson
What the reviewers have said:
Something Rotten!"…is fresh and hysterical and irreverent. It's easily the funniest thing to arrive on Broadway since "The Book of Mormon…
Now, that something special is "Something Rotten!," a deliriously entertaining new musical comedy that is devilishly clever under its goofy exterior. The influences are clear: "The Producers," "Spamalot" and "The Book of Mormon." Yep, this is a blockbuster.
…Something Rotten! has established itself as Broadway's funniest, splashiest, slap-happiest musical comedy in at least 400 years…tremendous care and showbiz savvy have gone into making a sophisticatedly silly rom-com that has it all: laugh-out-loud lyrics, catchy music, jaw-dropping sight gags and a powerhouse cast selling Bard-laced punch lines to the ecstatic balcony…the songs…are perfectly placed and deliver an escalating level of zaniness.
Parental Guidance:
Language: There are sexual innuendos.
Smoking, Drinking, and Gambling: No reference to any.
Sex: Suggestive language.
For Which Audiences? Recommended for 9th grade and higher due to themes and suggestive language.
Rating: If this was a movie, it would be rated PG-13.
Run time: 2hrs 30 minutes with the intermission
____________________________________________________________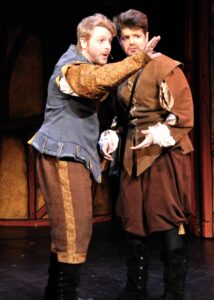 Welcome to the Renaissance and the outrageous, hugely-popular musical farce, Something Rotten! Two brothers set out to write the world's first musical in this hilarious mash-up of 16th century Shakespeare and 21st century Broadway.
Set in the 1590s, brothers Nick (Brendan Long) and Nigel (Erik Montague) Bottom are desperate to write a hit play but are stuck in the shadow of that Renaissance rock star known as "The Bard" (Galen Schloming). When a local soothsayer, Nostradamus' halfwit nephew Thomas Nostradamus (Burl Ross), foretells that the future of theatre involves singing, dancing, and acting at the same time, Nick and Nigel set out to write the world's very first musical. But amidst the scandalous excitement of opening night, the Bottom Brothers realize that reaching the top means being true to thine own self, and all that jazz.
Something Rotten! features epic song and dance numbers, and a wacky cast of over-the-top characters, each given his or her own special moment in the show to shine. Throughout its Broadway run, it became clear that "nothing's as amazing as a musical," so don't miss your chance to see this history-twisting tale LIVE on stage.
Created by Grammy Award-winning songwriter Wayne Kirkpatrick, and successful screenwriters Karey Kirkpatrick and John O'Farrell, Something Rotten! was acclaimed by audience members and critics alike, receiving several Best Musical nominations including a Tony and hailed by Time Out New York as "the funniest musical comedy in at least 400 years."
The musical, directed by Alan Shearman, begins April 28, and continues through June 11, 2023, playing Thursday, Friday, and Saturday nights at 7:30 PM, two Wednesday performances (May 17 and 31) at 7:30 PM, one Saturday matinee at 2:00 PM (May 27), and Sunday matinees at 2:00 PM (May 1, 7, 14, 21, 28 and June 4, 11).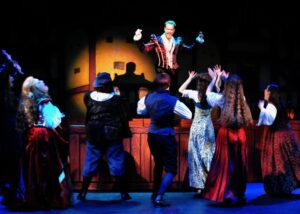 Special note: On Wednesdays, May 17 and May 31, the theatre continues its program called WOW: 25-35. For audience-goers 35 and under, tickets are priced at $25 each. Use the code WOW25 when ordering tickets online to get this special discount. At these performances, there will be a complimentary wine tasting (May 17) or whiskey tasting (May 31) one hour before curtain courtesy of an Oregon vineyard/distillery. OLCC rules apply. Bring your ID for the tasting!
Other players in the talented cast include Stephanie Heuston-Willing, Jorie Jones, Jeremy Southard, Mark Pierce, Danny Caputo, Tawni Peterson, Voni Kengla, Rebecca Laine Nguyen, Alyssa Beckman, Tabitha Wells-Benitez, Melody Wells-Benitez, Alika Bright, Isaac Elmore, Carl Dahlquist, Jim Peerenboom, Xander Dean, Austyn Stone, Emily N. Smith, Blake Isaac, and Ant Mulherin.
Director Alan Shearman says, "Something Rotten! is the show I've been waiting to direct for over seven years. Lakewood has made that dream come true. At last, I have the opportunity to recreate the show that made me ache with laughter for those people who never got the chance to see it – and for all the others who, like me, couldn't wait to see it again. Stand by for mass laughter."
LTC's production is directed by Alan Shearman, music director is Cyndy Ramsey-Rier, choreographer is Laura Hiszczynskyj, stage manager is Kendra Comerford, scenic design by John Gerth, sound design by Michael Bard, lighting design by Allison Knight-Blaine, costumes designed by Shon LeBlanc and Will Brattain and provided courtesy of Valentinos Costume Group Inc., properties design by Micah Steury and the producer is Steve Knox.