Irving Berlin's Holiday Inn
November 10 @ 7:30 pm

-

December 17 @ 10:00 pm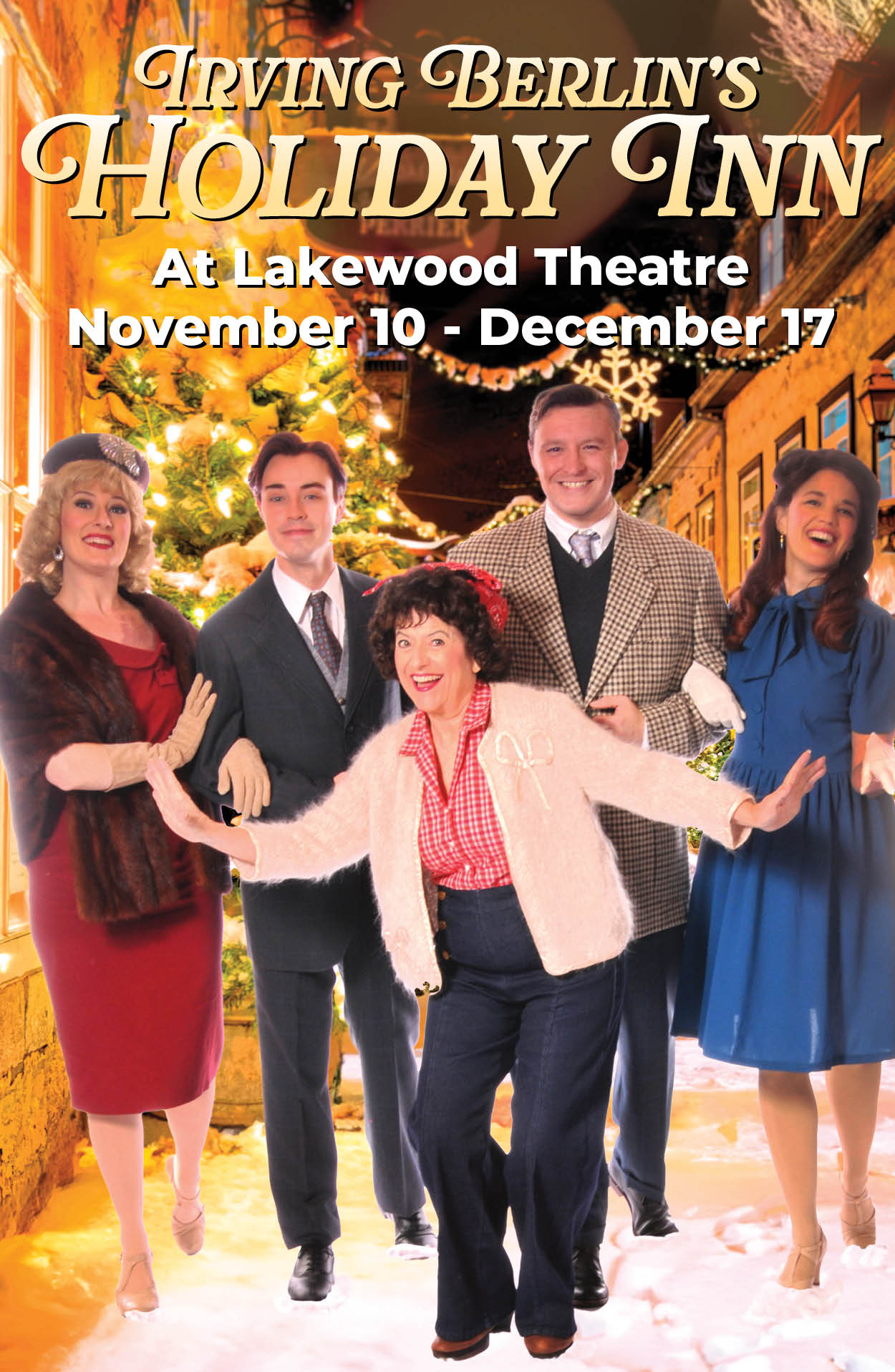 November 10 – December 17, 2023  Music and Lyrics by: Irving Berlin
Book by: Gordon Greenberg and Chad Hodge
Based on the Film from Universal Pictures
Directed by: Dennis Corwin
Music Director: Cyndy Ramsey-Rier
Choreographer: Laura Hiszczynskyj
Jim and his new friend Linda turn a Connecticut farmhouse into an inn with spirited performances to celebrate each holiday. But when Jim's best friend Ted tries to lure Linda to Hollywood to be his new dance partner, will Jim be able to salvage his latest chance at love? A joyous musical featuring Irving Berlin songs, including "Blue Skies," "Easter Parade," "Steppin' Out With My Baby," "Heat Wave," "White Christmas," "Be Careful, It's My Heart," and many more.
Title Sponsors: Don & Jessie Adams, Marilyn & Ron Nutting
Directorial Sponsor: The Aldrich Group
Music Sponsor: Sen. Bob Packwood & Elaine Franklin
For tickets CLICK HERE.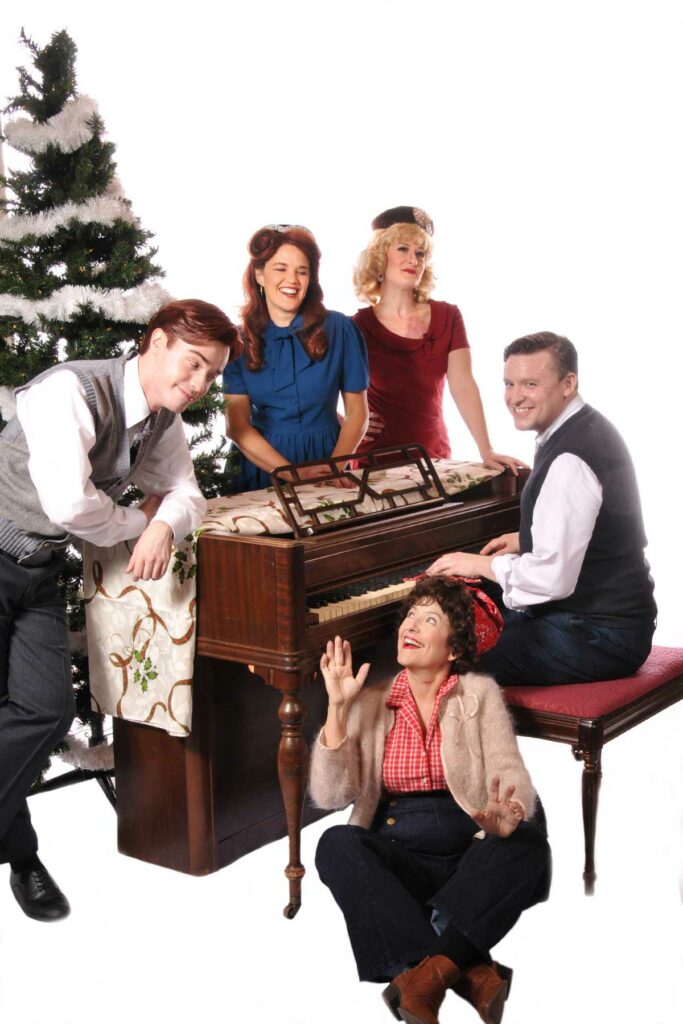 About the show: Lakewood's production is a fresh take on the 1942 musical film that starred Bing Crosby and Fred Astaire. Featuring more than 20 songs from "America's Songwriter," The show was adapted for the stage by Gordon Greenberg and Chad Hodge. This reimagined production now entitled Irving Berlin's Holiday Inn premiered in 2014 at the Goodspeed Opera House in Connecticut and in 2016 premiered on Broadway starring Bryce Pinkham and Corbin Bleu. The show features such Irving Berlin hits as "Blue Skies," "Easter Parade," "Steppin' Out With My Baby," "Heat Wave," "White Christmas," "Be Careful, It's My Heart," and many more.
Performances at Lakewood are Thurs-Sat at 7:30 PM, Sundays, at 2:00 PM, one Saturday (Dec. 2) at 2:00 PM, and two Wednesday performances (Nov. Dec. 15 and Dec. 6) at 7:30 PM. Special note: On Wednesdays Nov. 15 and Dec. 6, the theatre continues its Wine or Whiskey on Wednesday program called WOW: 25-35. For audience-goers 35 and under, tickets are priced at $25 each. Use the code WOW25 when ordering tickets online to get this special discount. At these performances there will be a complimentary wine tasting one hour before curtain courtesy of an Oregon vineyard/distillery. OLCC rules apply! Bring your ID for the tasting!
The Story: Irving Berlin's Holiday Inn tells the story of a song-and-dance trio Jim, Lila, and Ted. Jim Hardy (William Shindler) having grown tired of the flurry of life in New York City, proposes marriage to trio partner Lila Dixon (Megan Misslin) and urges her to leave for a farm he's purchased in the Connecticut countryside. The trio's manager (Dan Bahr) has other plans for them; but Jim stands firm in leaving showbiz, leaving the remaining trio partners Ted Hannover (Xander Dean) and fiancée Lila to go on the road as a duo.
With his former partners away, Jim starts his new life as a farmer, but is soon disappointed to find that farming isn't what he was expecting. Just as Jim starts to reconsider his new lifestyle, he meets a local schoolteacher, Linda Mason (Tasha Danner), who he discovers is a former performer. Together with Linda's friend, Louise (Joan Freed), and Jim's Broadway friends, the Connecticut farm is transformed into an inn, only open on holidays when the Broadway actors are available to perform. What will become of Jim and Lila's engagement? Will the Holiday Inn be a success? You'll have to join us to find out!
The talented ensemble playing multiple roles features Shaayan Punj, Briggs Haskett, Tawni Peterson, Alika Bright, Cherish Hales, Liberty Dolence, Patti Westby, Melody Wells-Benitez, Brendan Long, Robert Altieri, Blake Isaac, Teague Shattuck, Liz O'Donnell, Lorna Baxter, Jeff George, and Dylan Anthony Macabitas.
Artistic Staff: Irving Berlin's Holiday Inn is directed by Dennis Corwin. The Music Director and Conductor is Cyndy Ramsey-Rier, Choreography is by Laura Hiszczynskyj, the Stage Manager is Hailee G. Foster, Sound Design is by Marcus Storey, Set Design is by John Gerth, the Costume Designer is Janelle Sutton, the Assistant Stage Manager is Cassie Kanios, Lighting Design is by Demetri Pavlatos, Prop design is by Micah Steury, and the producer is Steve Knox.